Imagine what your garage could be...
Turn your garage into
your new office.
a vacation rental.
flexible space.
a guest house.
in-law quarters.
your backyard escape.
a rental unit.
your new office.
a vacation rental.
flexible space.
a guest house.
in-law quarters.
your backyard escape.
a rental unit.
your new office.
a vacation rental.
flexible space.
a guest house.
in-law quarters.
your backyard escape.
a rental unit.
Transform your garage into something better.
What is a garage conversion ADU?
A garage conversion ADU is just that — the transformation of a garage space into a functional living space. By using the existing structure, you have the option of either building within the footprint itself or adding square footage to increase the size of your ADU.
Benefits of a garage conversion ADU
A garage conversion or converted space ADU is the most cost-effective solution for building an ADU and increasing your property value. By using an existing structure you're decreasing both the time and cost to build an ADU.  Although every garage conversion will require updated electrical, plumbing and structural the footprint is there upon which to build.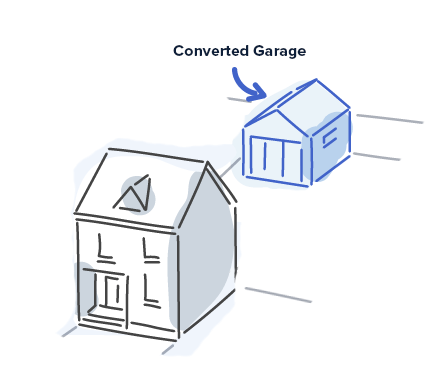 An investment you can feel good about.
The immediate value of a completed ADU will be greater than the cost it was to build. ADUs not only generate monthly income, but they also increase the resale value of your property! A garage conversion is typically more cost effective than a new construction ADU and you'll see your return on investment immediately.
Calculate your ADU investment »
You're a partner, not a project.
As a partner in this process, you are our priority. Your ADU is our focus, not just another item on the to-do list.
Before we work together to plan and execute your project, we must work together to explore the possibilities of your ADU. During the Exploration Phase we work with you to take a deep dive into your vision for your property as well as the feasibility of that vision in terms of what your property can handle and what kind of investment that will take. This is the time to dream big and think out loud. As your partner in this process, we will be there to guide you through the exploration of your possibilities.
The Planning & Permitting Phase is when we hit the ground running. This phase includes a "Professional Services Agreement" or PSA. During the PSA, we will be faithfully moving forward in creating the ADU of your vision. Some of the things you can expect to happen during this time are: architectural and engineered drawings to secure city permits, interior design options, an itemized bid to complete your project.
In our experience, a well-designed and planned project is also more likely to finish on time and on budget. We understand that you may want to make a change or two along the way – we are prepared to accommodate any changes you want, and our Contract will explain how costs associated with your changes will be handled.
Now we get to execute on all that planning! Our crews and your Project Manager will begin building or converting your ADU. During the Construction & Completion Phase, we run city inspections, host on job project status meeting will owners to review work completed and plan for work that is ahead. At the end of the project we will do a final job walk-through with you to answer operation questions regarding appliances, heating and cooling systems, or any other questions you may have. We will, of course, do a final clean up of the site and finally, the space is done and yours to enjoy how you see fit.
Want to learn more about converting your garage into an ADU?
Let's set up a time to talk and we will walk through the ADU building process together.